03 octobre 2010
I've been thinking of restoring all the data from the previous blog that had been lost but ended up with the conclusion that some best-of would be OK to link to the past before starting from zero.
One of those that I really enjoyed working on was a playmat for my friend's son called Timour. I thought it'd be fun for him to have something with bright and colorful colours to create incentives for the little one's curious eyes.. His parents are russian living in Paris, that's why I thought of a road with two directions that always comes back to the starting point.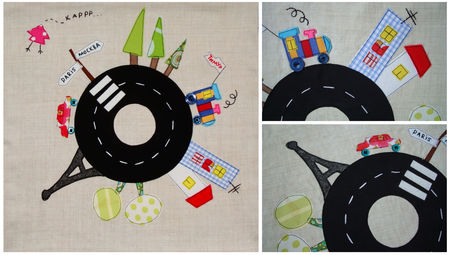 (click to enlarge)
Funny thing is that the day I offered it to Timour he was too small to play with the mat so his mom has turned it to a pillow case. I'm glad anyway it stays in his bed. :)
Love,

30 septembre 2010
Asoa's blog has moved here.
There were some reasons to delete the old one.. I've been longing to create a brand new face for my Asoablogoland to take a completely new start.
So here I am, looking forward to new friends and projects!
Welcome to my handmade life on canalblog!
Love,